GunNook has and always will be about the community first. Since it's creation back in 2011 GunNook's primary focus has been about providing tools and resources to communities and/or businesses that were otherwise out of reach to them or out of their price range. To this day we still stand behind that commitment and are pleased to let the community know we now make PVC, embroidered, or leather morale patches.
The best part, we guarantee the cheapest prices without affecting quality of the product. In fact, 100% customer satisfaction is guaranteed. We will work with you through the entire process to ensure you get the morale patch you envisioned. How can we do all this and charge such a low price? Because we cut out the middle man. In fact, if a competitor has quoted you a lower price we'll match it. Simply send us the quote. We also don't charge per individual color AND we include Velcro backing on all patches. Try to find that somewhere else! However, you can specify from the following: Hook and loop, Sew back, adhesive and or magnetic. In other words, no cheap tricks or hidden fees like the other guys.
Have an idea for a patch but lack the artistic ability? Not a problem, we can help with that too! Let our experienced staff design your kick-ass morale patch exactly the way you envisioned. Just provide some direction and or any items that could help reference what you're looking for and we'll take it from there.
Why PVC Patches?
Unlike standard cloth or embroidered patches, PVC patches are much more durable. They are flexible and waterproof and are near print-quality so your designs look clearer and sharper. PVC patches are made from a soft rubber that can be molded into virtually any shape or color, can be 2D or 3D (with raised and rounded details), and can withstand cold and hot temperatures. They are ideal for outdoor use and can withstand almost anything you can throw at them.
PVC patches allow for smaller details and lettering that just isn't possible with embroidered patches.
Why Choose GunNook For Your Custom Morale Patches?
It's all about you
We have the expertise and means, but it's your vision. We just help you bring it to life, it's that simple. Let your imagination run wild and we'll take your vision and turn it into reality, give us a chance to exceed your expectations. We will work with you through the entire process to ensure you get the morale patch you envisioned. GunNook has worked with hundreds of clients in different Military branches such as the United States Air Force, Army, Coast Guard, Marine Corps and Navy. To even other ally forces that stand with us. Law enforcement branches such as Homeland security, FBI and Police units and First responders from all over America. As well as individual clients.
Our primary goal is our 100% customer satisfaction guarantee. We pride ourselves on doing everything we can to make sure your patch is exactly what you envisioned and we're not happy until you're happy! Save even more on reorders. Once the mold fee is paid you never have to pay it again for previously purchased morale patches. The more patches you get the cheaper the cost.
Starting Sept 15th 2018
Take Pride in knowing that a portion of the proceeds from your order will go to a nonprofit organization affiliated with your order. For example; if it's a military patch order of any kind, custom or not, a portion of that order will go to Disabled American Veterans. Law enforcement proceeds will go to First Responders Children's Foundation etc.. More info on this can be found on our community page here.
Our Process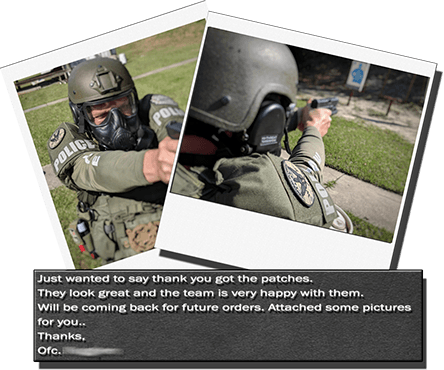 Step 1: The client submits their sketch, artwork, or overall ideas. Just tell us what you have in mind and we'll work with you to prepare a design mock-up.
Step 2: When a design mock-up has been settled on we will make any necessary and requested changes to present a final design for approval. This design will then be used to create the mold.
Step 3: Depending on the complexity of your design mold fees are typically between $100-$125 and only need to be paid once per patch design. You're free to come back and re-order more patches at any time with no additional fees.
Step 4: Upon approval of the mold your patches will go into immediate production. Once completed they will be packaged and shipped via 2-day Priority shipping.
Discounts Are Available for those who are or have served!
Here at GunNook, we Respect and support those who put their lives at risk to help protect others. This product, like any other product, on the GunNook network qualifies for discounts for military both past and present, law enforcement, and first responders alike. Please inquire within original quote for more details.
GunNook+ Members automatically get mold fees waived (minimum order of 500).
---
Request Your Free Quote Today
To receive a quote please provide the following information. Quotes are typically answered between 1-24 hours.